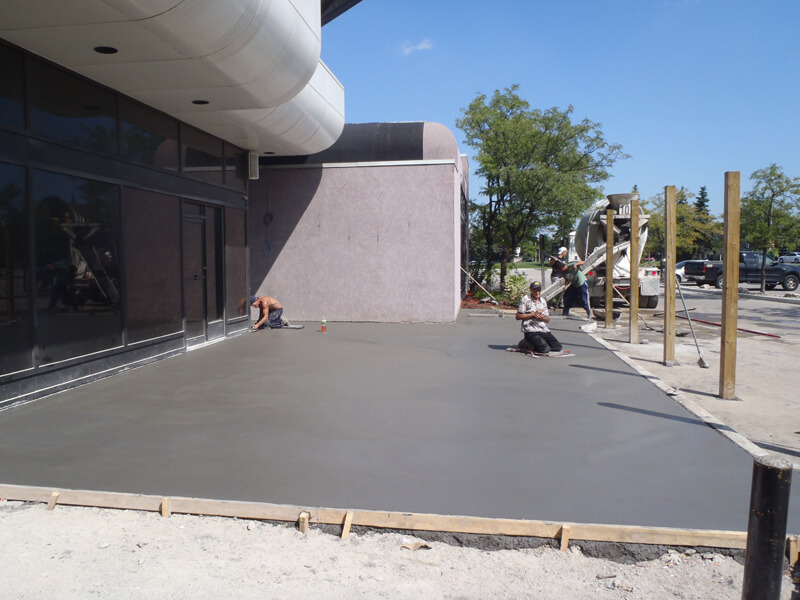 Downsview Concrete Construction Contractor
We at LNF are professional concrete contractors with over ten years of experience in a plethora of concrete foundation construction services. We have been catering to residential, commercial, industrial and institutional properties all over Downsview and Greater Downsview Area in Ontario, Canada. Our completely customized approach to concrete foundation construction enables us to deliver a solution that satiates the needs of our clients, accomplishes their objectives and conveniently fit into their budgets.
Our team of technicians has decades of collective experience and unmatched expertise. They still undergo ongoing training to stay abreast of all state of the art methods. We have been working closely with our clients, builders, property managements, architects and industry professionals who play an active and integral role in various types of developments. We have worked on hundreds of different projects in ten years and have attained a reputation of being one of the most reliable concrete foundation construction contractors in the entire province.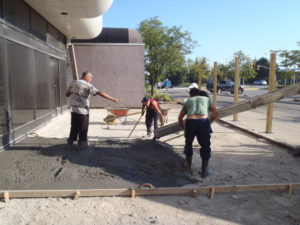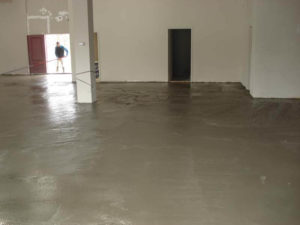 Commercial Concrete Services in Downsview
We at LNF specialize in commercial concrete foundation construction. Our plethora of services for commercial applications covers flatwork including laser screed floors for that impeccably flat surface, foundations, saw cutting including removal and replacements, concrete paving of alleys, curb and gutter, parking lots, factory floors, warehouse floors, office floors, stairwells, apartments, stoops, patios and porches, driveways and sidewalks, pathways and footings, garages, slabs and basements, pole barn floors, tear out & replacement and finishing.
Downsview Construction Services

Decorative Concrete Company Near Downsview, Ontario
Premier Concrete Contractor Serving Downsview, ON
Foundation is at the crux of the stability, integrity and safety of an entire structure. Whether it is a residential property or commercial building, a factory or warehouse, an industrial complex or public infrastructure, every construction relies on its foundation. LNF Contracting specializes in all types of concrete foundation services in Downsview and Greater Downsview Area.
We are experts in constructing square and leveled concrete foundation walls, completely adhering to the specifications. Our foundation work includes poured concrete walls for both residential and commercial properties, foundation necessary for any addition or a new small structure, demolition and replacement of existing foundation, concrete foundation footings & reinforcements, repairing existing foundation and municipal & government concrete.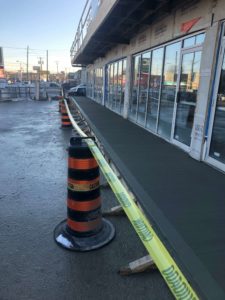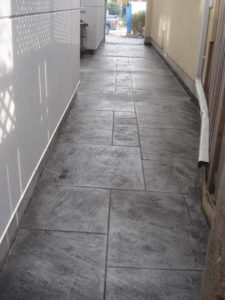 The Finest Concrete Construction Services in Downsview
Decorative concrete foundation has to be aesthetic but not at the cost of the structural durability and stability. This makes it a distinct specialization, beyond the usual scope of concrete foundation construction. Decorative concrete should sport beautiful patterns, the designs should make optimum use of vibrant colors and the rich textures should stand the test of time. We specialize in designing and installation of stamped concrete & decorative concrete that would more than satiate you. The quality of our decorative concrete has no equal.
We have a team of expert designers that can create the perfect patio or the most enticing walkway, a distinct driveway and any type of concrete fixtures that you want in or around your property which should make your place stand out. We have worked on patios, walkways, driveways, steps and curbs over the years. We have also designed beauty vanities and basement floors among others. Our custom designs, quality constructions and reliable services have made us the preferred concrete foundation contractor in Downsview and Greater Downsview Area.
Our decorative concrete solutions are not confined to the quintessential elements of a residential or commercial property. We specialize in gazebos, pergolas, pavilions, cabanas, outdoor kitchens, lighting effects, water features, fireplaces and fire pits among others. We can work on a facelift for your existing structures by using staining, patterned overlays or sealants. Our solutions are durable, environment friendly, affordable and beautiful. You can choose from hundreds of patterns and colors. We can develop patios, landings, steps, walkways, driveways, retaining walls, pool decks, concrete stairs and pool decks among others with the most distinct architectural attributes.
Give us a call and we can schedule an appointment for our free and nonobligatory consultation. We offer a custom plan and a free quote.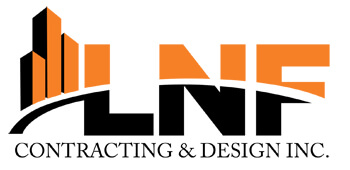 LNF Contracting & Design Inc
155 Ironside Drive




Woodbridge

,

ON

L4H 4C4


Tel:

(416) 410-5985


Downsview Concrete Contractor & Concrete Construction Services

5 / 5 stars – based on 9 reviews